Today we released the latest update for Optiscan, our QR Code scanner and generator, on the iTunes App Store.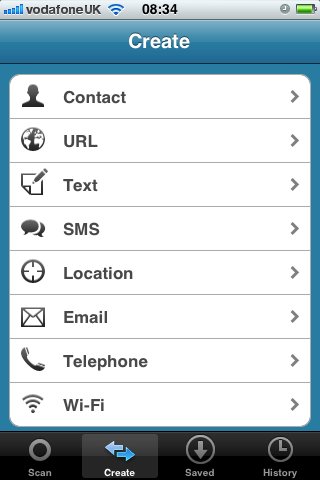 You've always been able to create a plethora of QR Code content types with Optiscan, but now we've made it even easier for you with a new menu of options. These include:
SMS Create a QR Code containing a message and the phone number to SMS it to - great for marketing!
Location To our knowledge Optiscan is the only QR Code generator app that lets you pinpoint a map location without having to type the address in!
Email Similar to the SMS option, setup an email message, subject line and recipients all in one QR Code
Telephone Keep it simple - your phone number in a QR Code
Wi-Fi Need to share your wi-fi details easily? Put them in a QR Code and pass it round!
All these options have been added at the request of our users in addition to our standard Contact (with vCard or MeCard options), URL and Text note options. We hope you enjoy using Optiscan even more now to scan and create all those QR Codes!
Coming to an iPhone near you soon: Optiscan 2.0: The Scanner Strikes Back!