The countdown has begun - so much so that Apple have taken the unprecedented step of putting the timer to the announcement front-and-centre on their website.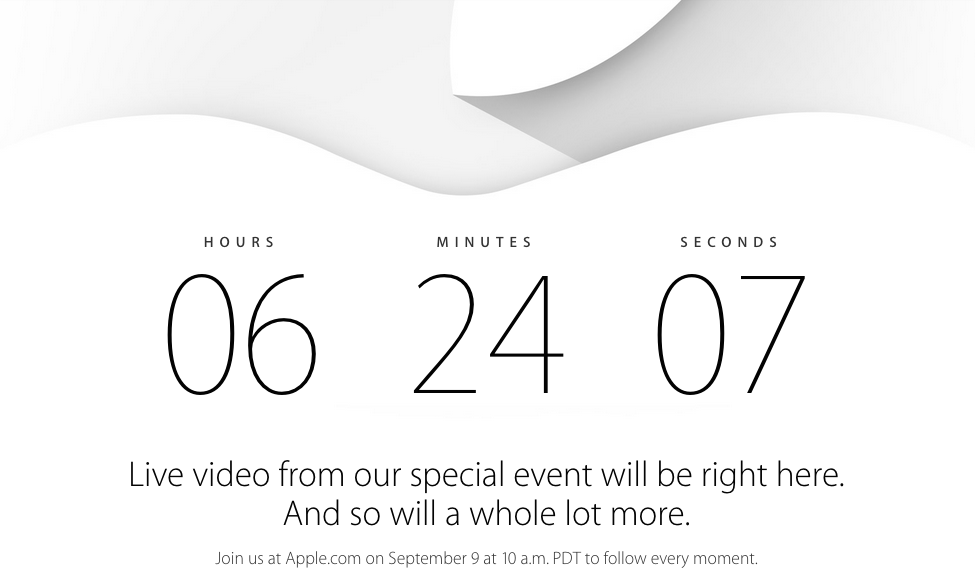 To keep momentum going, Apple is more-or-less obligated to put out a new product or a radically rethought one every few years. The last announcement of any major significance was probably the iPad, though arguably the re-engineered Mac Pro was also in the same category. It now seems almost certain that Apple will be announcing a wearable device today. How's it going to fare?
I stopped wearing a watch when I started rock climbing, and haven't regretted it's absence. My phone or a cut-off watch in my pocket have substituted just fine. There are still a lot of watches being sold, but the market hasn't really had any major shakeups since digital watches arrived several decades ago. Could Apple provide it?
Apple is entering a tricky market with the iWatch. They have a great brand, but despite the somewhat bold claim by Jonny Ive (who reportedly stated when interviewed that the Swiss were ahem "in trouble"), the Swiss have managed to lock away the high-end pretty successfully. Apple does so well in new product categories that I can't help but think it's going to be successful in this one as well. They're very good at the process of re-imagination, and watches are a category that is ripe for some destablising.
The wristwatch remains the only socially-acceptable form of jewellery for conservative middle-aged males, other than perhaps the wedding band. There is a low-end market for cheap disposable watches dominated by the Japanese. Lee Ka-Shing, the Hong Kong business magnate behind Hutchisson Whampoa famously still wears a $50 Citizen watch: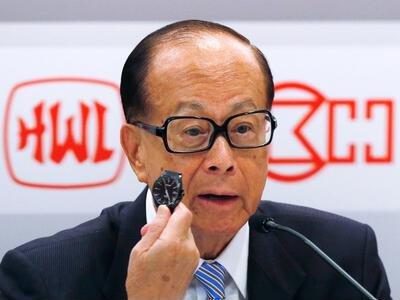 AP Photo/Alamy
There is a high-end market for conspicuous consumers or for those who value craft, dominated by European manufacturers, especially the Swiss. In this market, spending $10-15k on a watch is considered a good starting budget, unless you're willing to buy second-hand.
Then there's a bit of a messy middle ground, again mainly owned by the Swiss where you can spend a few thousand dollars on a watch, where your choices are probably driven by aspirational advertising. This must be what Apple is after - the Tag Heuers and low-end Rolex folks. The watches have no real function to distinguish them from the low-end watch, they have some appearance of craft ("faux-craft") and they are purchased by the less discerning. The prices, facilities and image of the watch will be very much aimed at these sorts of people. But will people put up with poor battery life on a wristwatch? This is the key question.
So what do I expect?
Medical and wellness integration
Expect some nifty sensors that track blood pressure, pulse - perhaps even some form of glucose monitoring. Nike abandoned development of their Fuelband for a reason.
"Gorgeous" display
Expect a display that will inevitably be described in the keynote as "gorgeous". Sapphire glass, at least as an option. It will dazzle, but it won't blow the battery.
Charging niftiness
Expect a short battery life, only 3-4 days maximum, but more likely an overnight charge required. Wireless charging is a possibility, but consumers haven't shown much love for this. They'll have come up with something clever in this department.
Brushed metallic body
With options, like the iPhone 5s. They've got the mass manufacturing of solid blocks of aluminium all worked out now, so that will be put to good use.
Bluetooth Low-Energy
This will have to be there for the medical/welness stuff, but I also expect fully-fledged Bluetooth for communication. Apple may have rolled their own protocol for this, though I hope not. Will it integrate with Android?
NFC
If they're going to roll out payments then integrating this with the watch would make sense, much less hassle.
We'll be watching the announcement carefully here at Airsource - get the popcorn out, it's going to be a fun ride.