Airsource are delighted to announce that Optishare is now available on the App Store.
What is Optishare? It's a simple app that allows the creation of QR codes on any iPhone or iPod Touch, which can be scanned by any QR-enabled device, such as an iPhone using Optiscan, the fastest QR code scanner on the App Store.
Share contacts, web addresses and text with other devices.
Save specific QR codes for quick sharing — perfect for sharing your business card.
Keeps a history of QR codes created and shared for easy recall.
Optishare supports encoding to UTF-8, ISO-8859, and Shift-JIS.
Select the contact details you want to send, to ensure the right people get the right information.
Optishare runs without a network connection, and keeps your data private. Why put up with anything less?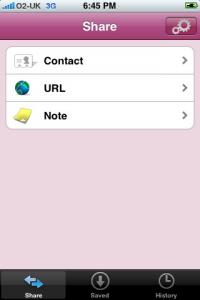 Optishare is available right now from the App Store.