After a few months of intensive effort from myself and Ben (not to mention the efforts of many potential candidates), we managed to find two engineers who fit the bill. Taking on two people at once is a bit risky when you're as little as we are, but when you find great people you just need to grab them. There's more equipment to buy and there are more salaries to pay, but once you've got the people on board you only have to go through things once with both of them, so overall it seems to save time. We're feeling pretty chuffed.
But the obvious side-effect of taking on more people is - where in the heck do you fit them? Ben and I started off in his front bedroom, which was tough going but kind of fun. I'm one of these blokes who likes a fair bit of waggle room, though, so as soon as we possibly could (14 months in!) we moved across the road to a lovely little pseudo-serviced office outfit with wonky floors and bundles of character. And two months later we're already trying to work out where we are all going to fit.
When push comes to shove, you need to make sacrifices. In many places I've worked, there was a pretty strict hierarchy when it came to allocating seating spaces. It went a little something like this:
Senior executives (CEO/CTO etc.)
Managers (People with Director in their title)
Sales staff
Support staff (IT people, Accountants, Office staff)
Engineers, Testers, Content developers
Now this is a bit topsy-turvy, and here's why. The only guys who actually MAKE money in the company are the guys at the bottom. Yes, that's right. Everyone else is basically an overhead on a software business. The executive team spend a lot of time meeting people and forming relationships, opening the doors for software to be sold. The managers motivate teams, resolve differences and bond with people. The sales guys spend a lot of time on the road, seeking opportunites in new markets. The support staff keep the ship running smoothly. But the folks at the bottom are the ones that actually build things that can be sold. So why don't you put them first when you're planning this out?
So if I'm going to be consistent on all this it means that I'm the first on the chopping block. My new digs are substantially smaller but frankly since I should be out building those all-important corporate relationships do I really need a huge desk? Nah. Besides, it acts as a huge motivator to get me out and tracking down our long-term office.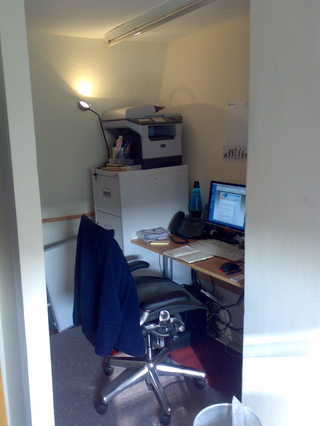 So we had a lot of rearranging of furniture to do. Squeezing in an additional two people proved to be kind of a challenge but with me moved back to a small desk where a bookshelf used to be it opens up the possibilities to fit everyone in. Ben and Teanlorg have one side: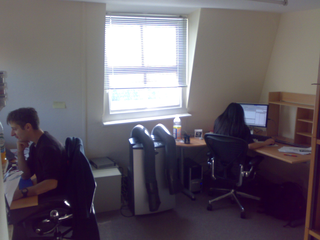 And John has the other: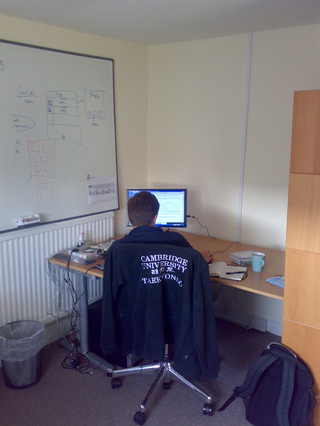 Ah, the heart-warming clickety-clack of fingers on keyboards. And yes, those are Aerons. If you're going to sit in a chair for as long as we do, you might as well do it in comfort. :-)